Cunningham Plumbing Company-our story.…….
Cunningham Gas Products is chartered in the state of Texas as Cunningham Plumbing Company. You can see the picture of our founder, Ralph Cunningham on the edge of the truck and one of his sons, Joe standing next to the truck in the old B/W photo. Obviously, Cunningham Plumbing Company goes back many years.
It all began in June of 1949 when Ralph Cunningham and his wife, Annie drove to Austin, Texas so Ralph could take the plumbing exam and acquire his plumber's license. Thus, the beginning of Cunningham Plumbing Company.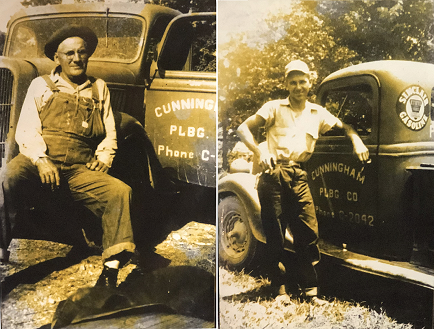 These were hard times in the U.S., having just begun the road to recovery after the great depression. The company was successful in terms of putting food on the table for Ralph and Annie and their seven children. Ralph raised his family by three simple principles: Work hard, be honest & treat others how you expect to be treated.
At about 40 years of age, Ralph Cunningham came in from work, ate dinner, and went to bed early. He never woke up. Working hard all those years and supporting a wife and seven kids will sometimes do that to you.
SO-with six siblings and his mother to feed, one of the sons, Roy dropped out of high school and took over the business. Some of his brothers also helped with the company. Later after finishing his time with the Navy, Roy joined the Houston Fire Department which allowed him and his wife, Regenia to keep the business going on the side. In effect, he worked two jobs and worked hard. They both did.
In the late '60s Roy and Regenia established a relationship with the local gas company-United Gas which later became Entex. During those days, the gas company had a sales floor, and when they sold a water heater and financed it for their customers, Cunningham Plumbing was one of the installing contractors. They drove all over Houston installing water heaters and made $35.00 for each install. The year was 1968, and the company worked out of Roy and Regenia's garage.
Early in the '70s the Cunningham's bought the land at 18700 Carrot St. in Spring, Texas and built their first warehouse/office/showroom. This was about the time the local gas company came up with a "builder gas grill and gas light program" where they promoted gaslights and gas grills to home builders. Again Cunningham Plumbing was chosen as one of the contractors to install them. Back then an installer was paid $7.00 for a 35-foot gas line run and post light install. They were paid $12.00 for each gas grill installed on a post. Either one took about an hour (if the ground was not like concrete).
It was about that time that they were contacted by Bill Byrd, the owner of Falcon gas grills in Dallas. Bill was looking for not just a dealer but a wholesale distributor, to sell these grills to other dealers in the Houston area. Regenia was concerned as to the capital investment for the 40 grills it took to become a distributor, after all, they still had that $35.00 a month house note to make and two kids to feed! Roy convinced her this was a good decision and Cunningham Gas Products was born.
Not long after that, Cunningham's became a distributor for MHP grill replacement parts, gas lights, and gas grills, further expanding their product offering to their dealers. To this day, they still offer the MHP grill line. As the product lines continued to expand Cunningham's hired an outside salesman to make calls on dealers and further develop their territory.
In 1976 the son, Jeff Cunningham now 18 years old, joined the company full time. Jeff had worked many summers with his dad, Roy traveling around Houston helping to install water heaters and do plumbing jobs. Now that he was full time, he spent 9 years as an installer, 4 years in the warehouse shipping orders to dealers and several years on the road calling on those same dealers. For 10 of those years, he attended college at night to acquire a degree in business.
In 1980 a gentleman by the name of Tod Corrin with another manufacturer-the Robert H. Peterson Company came to visit. Cunningham's had been carrying Peterson gas logs which they purchased from another local distributor. The other distributor had fallen into financial trouble, and Tod was sent to Cunningham's to offer them the distribution of the line. Again a discussion ensued between Roy and Regenia, after all, they required 100 sets of logs to become a Peterson Gas Log distributor. Roy won again. So now Cunningham's distributed Falcon, MHP and Peterson Real Fyre gas logs to other dealers as well as maintained their original 15 foot by 20-foot retail sales floor in Spring.
The outside sales territory kept expanding across South Texas all the way to the Rio Grande Valley. Their customer base included several other gas utilities as well as several independent retailers. More outside sales folks were hired to cover the expanding reach of their commercial operation.
In the summer of 1982, a gentleman who worked for Entex named John Fontenot paid the Cunningham's a visit. He wanted to bring out a young lady who had just transferred from the Entex Mississippi division to the Houston sales floor. There were introductions all around and John, this new girl, and Jeff went to lunch. After lunch, Roy called Jeff into his office & told Jeff NEVER to have anything to do with her because a relationship with her would be a conflict of interest with her working the sales floor and representing Cunningham's brands as well as other distributor's product. Jeff did not follow his father's instructions. In 1984, with his parent's blessing (Robben had since been moved off the sales floor) Jeff and Robben were married. They had three children, and after years of staying home and raising the family, Robben joined the company in 2005.
The next several years were a blur of growth, blessings of children, more retail and wholesale product lines, etc. Cunningham's first computers were fired up in October of 1990. In June of 1996, Cunningham's also expanded into another new thing-the internet. They were one of the first in their industry with a webpage which was CunninghamGas.com which later became CunninghamLiving. Over the next few years, they also launched several other boutique sites as well as their first online wholesale catalog for their growing dealer base, CGProducts.com.
This expansion online has led to another dimension of the company, order fulfillment for other online retailers. The fact that they inventoried SO MUCH stock and shipped the same day has made them a favorite among many online dealers. This has been an essential element of their sales growth and the further diversification of the company.
In 1997, they decided to open a second retail location in the Houston market. This fairly new community was known as The Woodlands, an area that even today continues to grow and expand.
It was in June of 2001 that the company lost its matriarch-Regenia Cunningham. She was an essential part of the company's success, working all those years tirelessly while still raising a family and running the office of the growing operations.
Later in 2001, Cunningham's decided to get into the grill manufacturing business. This decision was a scary one since the purchases from the factory had to be in container loads which were quite a jump from the first 40 Falcon grills they purchased wholesale as a distributor. However, they made the leap and their own brand-RCS Renaissance Cooking Systems was born. Under the RCS brand, they designed a complete line of grills, doors, drawers, sinks, fridges, and everything anyone would need to equip their outdoor kitchen.
Fast forward the next several years, and by the grace of God and a lot of hard work, the company continued to grow with expanding territories, more outside sales folks, more online customers and more, larger warehouses.
It was in October 2012 that Cunningham's lost another founder-Roy Cunningham. Roy was the leader of the company and had been instrumental in its success all those many years working tirelessly beside Regenia, building a legacy for the next generation and providing jobs for an excellent staff of 35 dedicated, hard-working people. The company's average tenure 13 years, with one staff member, Betty Meischen having been there for over 40 years!
The company expanded and diversified yet again in 2015 with the purchase of another company-Haggard's Rustic Goods. Mr. Haggard had been a supplier of hand-built rustic coolers and a friend to the Cunningham's for over 10 years and decided he wanted to retire. The Haggards owned both a production operation for their rustic goods as well as a retail location in Plantersville. Mr. Haggard joined the Cunningham family to help transition and move the production operations. He brought with him his five craftsmen. A new building was erected on Carrot Street adjacent to the other Cunningham operations, and the company continued to grow. After a year when everything was established, Mr. Haggard retired because as he put it, "the fish are biting".
Today Cunningham Gas Products is multi-faceted operation with two retail locations, a wholesale distribution business across four states, an outdoor kitchen products manufacturing business (RCS) which serves customers nationally, an order fulfillment business serving the needs of online retailers across the U.S. and a production and sales operation of rustic goods, Haggards.
The fourth generation of this family-owned business is on board with Julee Cunningham handling the graphics, FaceBook, Twitter, product photography videos and overall promotional and creative aspects of the company. Austin Cunningham has taken over the quickly growing Haggard's production and product design. Hannah was working for two years in the office but has taken off, for now, to raise a family.
Those three simple principles that Ralph Cunningham taught his son's way back in 1949: Work hard, be honest & treat others how you expect to be treated, is still alive and well over 70 years later.